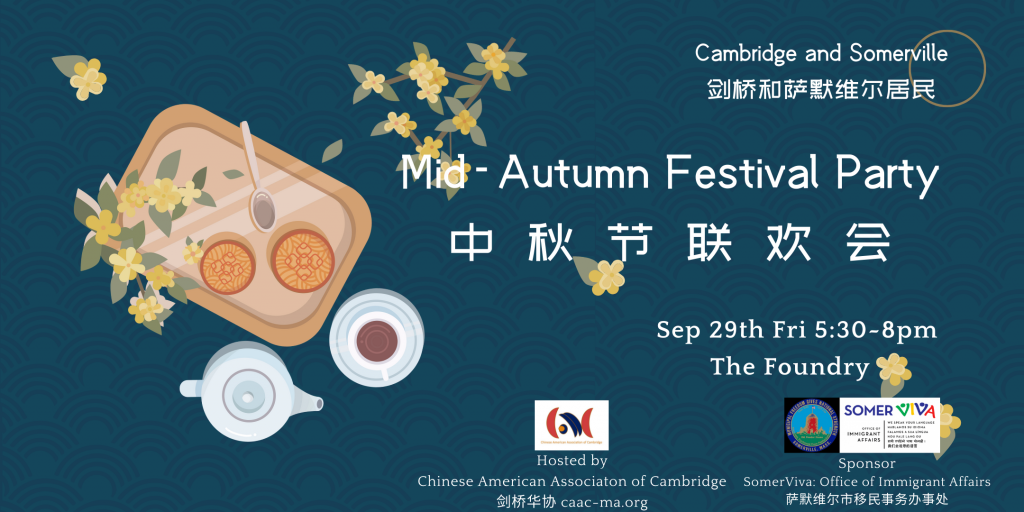 To book the ticket: https://www.eventbrite.com/e/cambridge-somerville-mid-autumn-festival-party-tickets-718965293547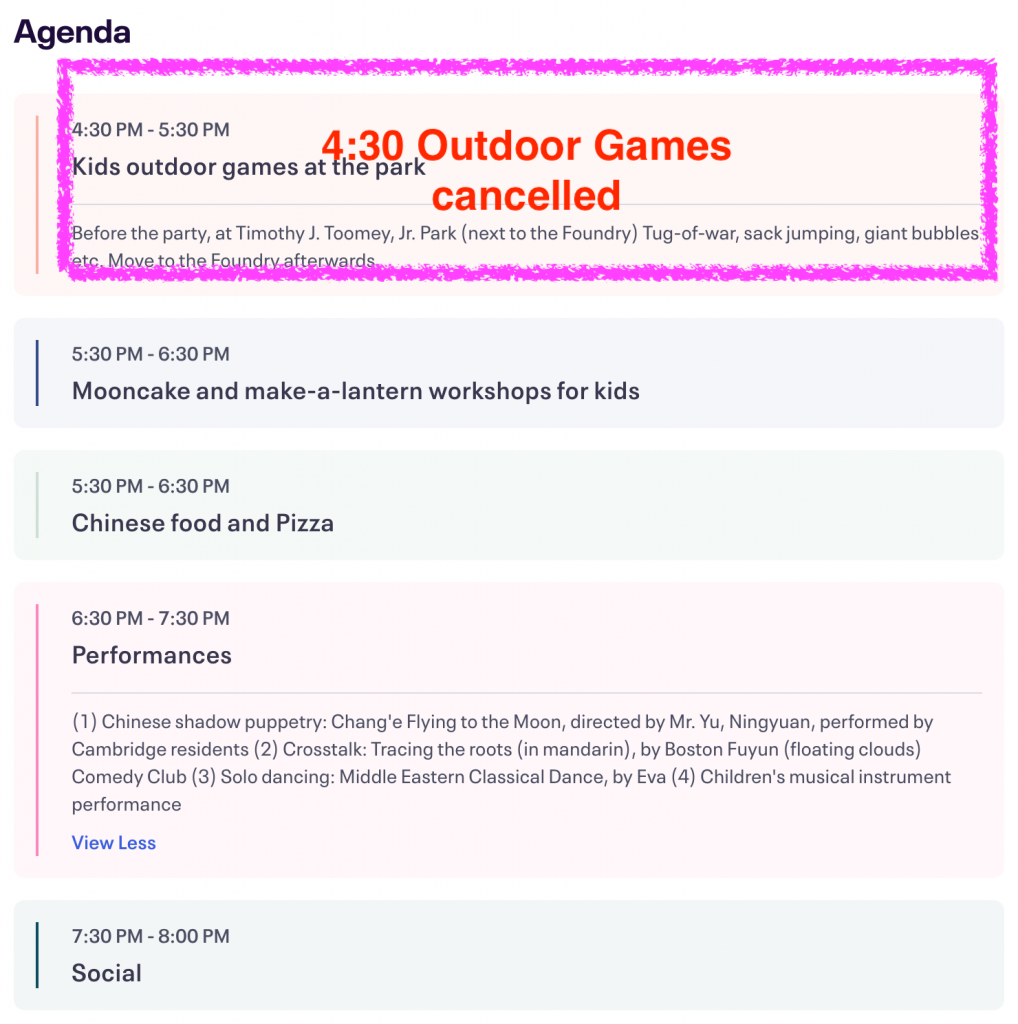 节 目 单
皮影戏《嫦娥奔月 / The story of Chang'e, the moon goddess 》—— 林源老师执导,剑桥居民表演
歌曲 《声声慢 Sheng Sheng Man 》—— Anthony and Vivian
钢琴演奏 《Rain Rain Go Away》 —— 王翔宇(George Wang)
小提琴 《Twinkle Twinkle Little Star》 —— Yuhua Ren
钢琴演奏 《Melody of the Night》 —— Cabin Lu 陆家本
相声《追根溯源》—— 寿一蔚、冯贺(波士顿浮云相声社)
舞蹈 《Blues Sole》—— Eva Liu
武术 《查拳 》—— 李尊龙、Adam
有奖猜谜 —— Anthony and Vivian
---
Cambridge-Somerville Mid-Autumn Festival Party
Join us for a night of fun and celebration at The Foundry! The party is a lively in-person event that brings together friends, family, and the community to enjoy the festive spirit. Immerse yourself in the enchanting atmosphere as we celebrate this traditional Chinese festival. Indulge in delicious mooncakes, make a lantern, and be captivated by vibrant cultural performances, including a Chinese shadow puppetry show! In addition, before the party, children are welcome to play sack jumping and tug-of-war games in the park next to the Foundry.
The event provides pizza and Chinese food, please let us know if you have any food allergy.
About the Chinese shadow puppetry
Shadow play, also known as shadow puppetry, is an ancient form of storytelling and entertainment which uses flat articulated cut-out figures (shadow puppets) which are held between a source of light and a translucent screen or scrim.
This is a new art performance on the Cambridge stage, directed by Mr. Yu, Ningyuan and performed by Cambridge residents. The history of shadow puppet performances during the Mid-Autumn Festival can be traced back to Emperor Wu of the Han Dynasty who made shadow puppets in memory of his beloved concubine. It represents that when the energy of summer is fading, we work with the inner light to defeat shadows and death, and present the value and meaning of life. . The story of "Chang'e Flying to the Moon" is told every Mid-Autumn Festival because there is a desire in each of us for Chang'e to fly to the full moon and meet her other half Hou Yi on the day of the Mid-Autumn Festival. The night of the Mid-Autumn Festival is a day for family reunions and perfect peace shared across the world.
剑桥-萨默维尔中秋联欢会
首届剑桥-萨默维尔中秋联欢会欢迎新、老朋友,街坊邻居来齐聚一堂,一同庆祝这个中国传统节日。有小朋友做月饼,折灯笼的活动,欣赏"嫦娥奔月"皮影戏、浮云社的相声、Eva的独舞和小朋友们的音乐演奏!另外,联欢会之前在Foundry旁边的公园,欢迎小朋友们来玩麻袋跳和拔河比赛的游戏。
联欢会提供晚餐,如果有食物过敏,请告知我们。
关于皮影戏
这是剑桥舞台上的一个新的艺术表演,由林源老师执导,剑桥居民表演。中秋节演皮影的历史可以追溯到汉武帝为纪念爱妃而作皮影,它代表着当夏日的能量在渐弱中,我们与内在之光工作,战胜阴影和死亡,呈现生的价值和意义。《嫦娥奔月》的故事之所以在每年中秋被讲述,是因为我们每个人的心中都有一个渴望圆满的嫦娥要在中秋这一天,飞到圆月中,见到她的另一半后羿。中秋之夜,是家庭团圆,天涯共享完满和平的日子。